Show 82 – Cosmic Heart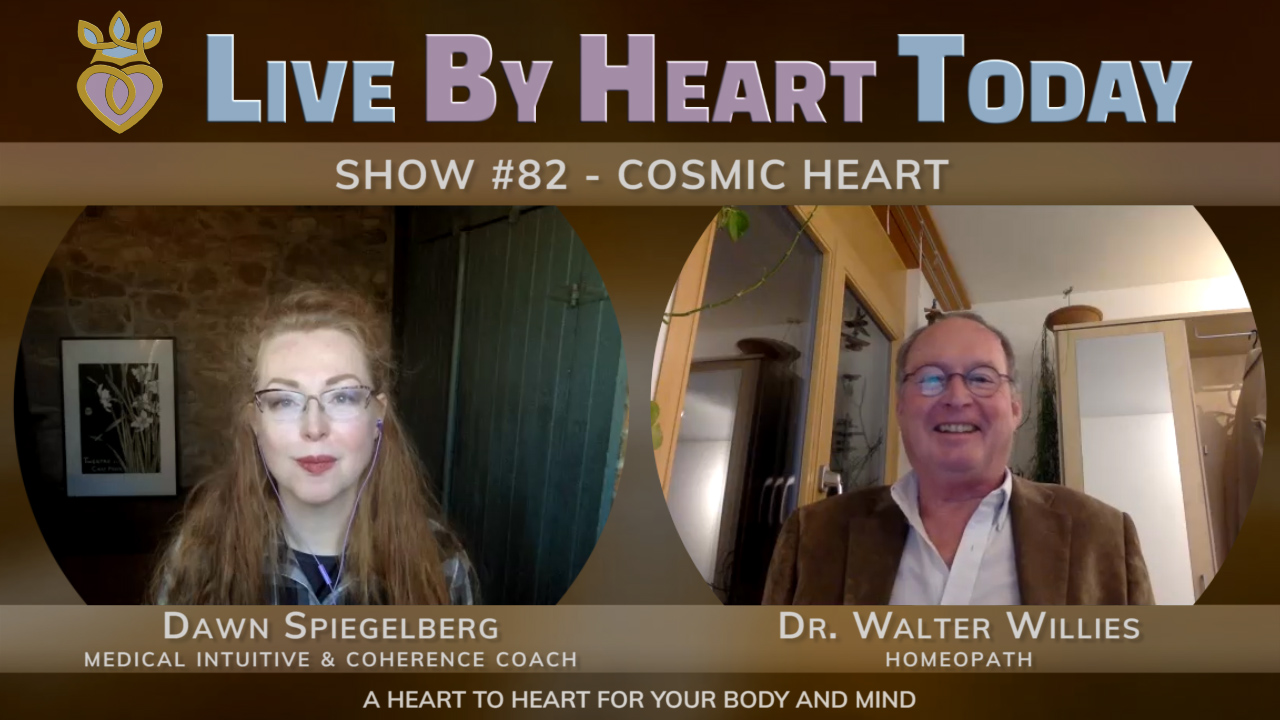 Live By Heart Today 82 | Cosmic Heart
We embark upon our Pilgrimage series with our host, Dawn Spiegelberg and recurring guest, Dr. Walter Willies, a Professor that transitioned from English, Psychology and Religious Studies into Homeopathic medicine and practices.
Dawn and Dr. Willies explore the realm of the Cosmic Heart and how using that term may have other meanings or different connotations throughout our various Language Communities. We can make a shift in our comprehension of the Cosmic Heart by intertwining our Language definitions to fathom new concepts.
We address how external pressure to succeed and once obtained, continue to sustain it. Chasing an unrealistic measure of success, without giving relaxation any priority, can lead to a build-up of internal pressure that eventually diminishes our drive and motivation to pursue anything worthwhile.
Dawn mentions how the use of substances that claim to relieve stress is not true relaxation either and Dr. Willies explains why it is hard to find peace when one can not relax and how we can learn to relax and tap in the Cosmic Heart by practicing the skill of Noticing.
And Dr. Willies continues to describe how we can learn to contain what is experienced within by Centering our awareness and we can then begin to experience peace. This methodology is best described in the book, Bio-Spirituality which entails how we can be present and commit to each moment; when we do, our senses can come alive and awaken to the experience of Oneness
Dr. Willies also informs us how we need to be asking appropriate questions about our Body in order to grasp the intuitive intelligence within our Bodies and design our own answers.
We also have a heart to heart about how we co-create a spiritual reality with each other by evolving, growing and learning to improve over time; with a nod to the book, Soul Story by Tim Freke.
Dr. Willies shares how he has developed his own practice of bio-focusing which is his version of energy healing on a para-conscious level. He goes on to tell us how the Cosmos is made up by the Table of Elements in a subatomic structure and that we are sentient star dust with a cosmic purpose to figure out why we here. We often seek guidance and help from Out There but the answers are available in the Here and Now.
Join us as we also share insights on: making miracles; amazing synchronicities; the Quantum Touch; concentrating our energy; the Bill Bengston Method; and so much more.
Learn more about Dr. Willies at: Learn more about Dr. Willies: www.WatermanHomeopathy.com
Cosmic Heart is the second show of our Season 7 theme: Pilgrimage. Each show is a self-contained mini-discourse that progressively compounds over each season to support an overall topic of well-being.
Live By Heart Today is hosted by Dawn Spiegelberg, a Medical Intuitive and Coherence Coach and produced by Retro Earth Studio.
= = = = = = = = = = =
Thank you for supporting our show:
Dawn Spiegelberg | Live By Heart Today
Energy Body Tuners  | Jazz Piano Pro
Retro Earth Studio |We Are Historically